My Review for:

Yankee Candle

-

Lilac Blossoms
Yankee
Description:
"
An alluring grove of lavender, white and deep purple lilacs.

"
Top: Dewy Greens, Water Lily, Bergamot
Mid: Lilac Petals, Hyacinth, Tulip Bulbs
Base: Cedarleaf, Vetiver, Moss
Quite Authentic...
I grew up with a lilac bush right outside my front door. To me, Lilac's represent growing up in the country, getting ready for sunshine and warmer days.The one thing that's unfortunate about lilacs: the bees. They used to swarm all over our lilac bush, and would sometimes make their way into the house. Not fun. I'm hoping, with this candle, I'll get all of the lilac's beautiful smell, without fear of getting stung.
This is a sweet floral w/ a hint of earthy green in the base notes. There are many more flowers that make up this fragrance, but the lilac is the dominant note.On cold sniff, I can't smell Lily, Hyacinth or Tulips. I think they add body to the fragrance without overpowering the Lilac. I can smell the candle just from taking the lid off the jar. It's heavenly. Lets see what happens when I Light It Up.
An authentic lilac fragrance has to smell like the bushes AND the blossoms themselves, otherwise I think of old lady perfume. Thankfully, this candle doesn't go old lady at all due to the dewy green top notes. They are very subtle and mostly blend with the floral notes, toning down the sweetness. I pick up on the earthy moss, and not so much the Bergamot, Cedarleaf & Vetiver, which tend to lean masculine. All together, these notes balance each other perfectly. They add a freshness that REALLY makes this candle smell like lilac!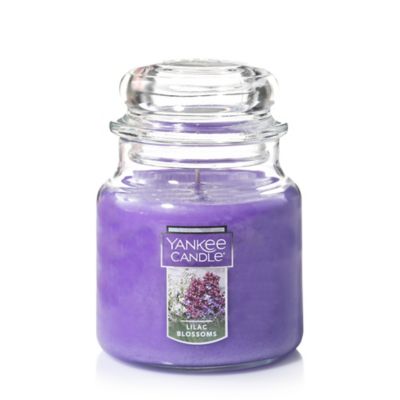 The smell travels well. I'd rate the throw around a 7 for a medium sized room. It won't overpower those with sensitivities to floral notes. Though I rate the throw at a 7, my boyfriend has trouble smelling this candle. He knows there is a candle burning, and he can smell something, he just can't smell the lilac. So the fragrance itself is on the lighter side, which is a good thing when it has so many floral-heavy mid notes.
I think Yankee Candle's Lilac Blossoms smells amazing on it's own, but I suppose you could mix it with other florals. I'd stick with the floral notes listed to avoid clashing with or drowning out the sweet, soft lilac. This candle is perfect for what I wanted, and I will be reordering when it's all gone. This is one of the first Yankee Candles, I know for a fact, I want on-hand at all times. This will be a floral go-to for me. I would recommend it to anyone & everyone who appreciates the smell of fresh, green, flowering lilac bushes.
-Fragrance: 10/10
-Overall: A


Until Next Time, my Illuminating Subjects!
💗The Candle Queen